Sometimes you may want to switch the background in a photo that you snapped because it didn't turn out looking so great, or at other times you may simply want to replace it to 'superimpose' the foreground on a new background. There may even be times when you want to remove the background from your photos but not use a new image in its place – so that it remains transparent instead.
If you want to do any one of those things but don't know how to get started – try using Movavi Photo Editor. To learn how to change background in photos with it, just follow these instructions: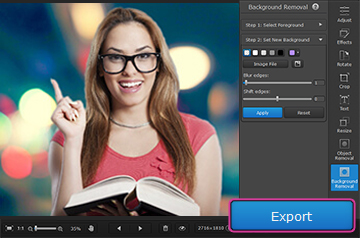 Click 'Browse for Images' and select the photo that you wish to edit.
Open up the 'Background Removal' tab.
Select the green 'Foreground Brush' and use it to paint over the elements in the foareground that you want to keep.
Select the red 'Background Brush' and use it to paint over the background that you want to remove.
The elements in the foreground will have a yellow outline around them and if you're satisfied click 'Set New Background' to remove the background.
Click 'Image File' to add a new background image or skip that step if you want to leave it transparent and click 'Apply' to finalize the changes.
Click 'Export' to save the photo.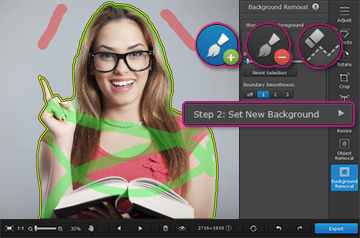 Before you save the final version of your photo you may want to make use of the other features in Movavi Photo Editor. Depending on your needs you could enhance the photo quality, insert customizable text, apply stylish filters, remove unwanted elements and transform the frame or orientation of the photos.
Considering how intuitive and easy it is to use Movavi Photo Editor it shouldn't take you long to learn how to use all of its features – regardless of how little prior experience you may have. The more you experiment with the features and how they work, the better you'll able to apply them in tandem with one other the produce the sort of photos that you desire.