Thursday, sunny and 85 degrees; Friday, sunny and 85 degrees; Saturday, oops, sunny but only 84 degrees.  Well, you get the picture.   That is one of the many reasons I returned to Isla Mujeres, Mexico.  To get away from the hustle and bustle (as well as the politics), in the Washington DC area and to scuba dive the pristine waters in the Gulf of Mexico.   This time, however, I planned to take-in some additional excitement with whale shark diving and the famous turtle drift.
I had visited Isla Mujeres to swim with these whale sharks with some friends a few years back (group's name…Ship Faced 2.0).  Chara, who was the leader of our motley crew, set up the entire excursion with Mexico Divers– big shout out to Victoria.  Once down in Mujeres, we had a great time scuba diving off the reefs, the underwater museum, and swimming with the whale sharks.  We had a fantastic time!
Now, fast forward four years later – with the clipper race around the world suspended until February due to Covid – I decided to head back to the Island to receive some additional diving qualifications and have a little fun.  So, when the government opened travel to Mexico in March – off I went.  Now four months later with my advanced and wreck diving qualification in hand I have returned for some more whale time and to take on the drift dive.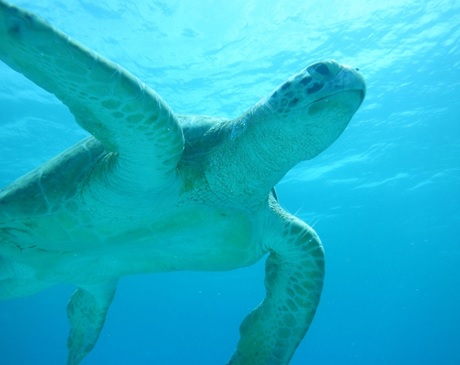 Having arrived for a five-day visit, I planned a few dives with Claire, my dive instructor, just to get back into the diving routine (little known fact, it's just like riding a bicycle). After a couple of dives in Musa Manchones around the reefs and the underwater museum, I felt I was back into the swing of things – even though I still suck air like gasping fish on the beach.  But the diving portion would come later, because the next day we were scheduled to go swim with the whale Sharks.
Through Aqua adventures, ten of us boarded the power boat for the hour ride out to the spawning area where the sharks congregate.   Lucky for us it was the day after a full moon, which nature – being nature – increased the plankton on the surface.  The whales' primary source of food, which portends that more whales would be at the surface to provide better viewing and swimming.
After an hour in the chop, racing other boats to find the pods of whales, we slowed down near the area we were going to swim. The crew divvied us up into pairs to take turn jumping off the boat and to swim with these monsters. What I found interesting was the briefing that all captains must tell their guests about diving with the whale sharks.  The captains and guides of the ship would beseech you not to touch the sharks.  Well, it is a hell of a lot more difficult than one might think. Whale-sharks are the largest fish, and non-mammal vertebrate in the world.  Growing up to 62 feet these behemoths are awesome. Due to their size, they seem to amble their way around the ocean.  However, looks can be deceiving, since their size masks how deceptively fast they really are.  So, when humans (i.e., non-sea creatures), try to keep up, well – good luck with that!  When you jump in and start chasing these fish, you find yourself falling further and further behind.    So, by the time your guide finds you among the myriad of people and boats, and the skipper drives the boat to pick you up not only didn't touch the shark, but you are also exhausted and coughing up seawater to boot!  Lesson learned.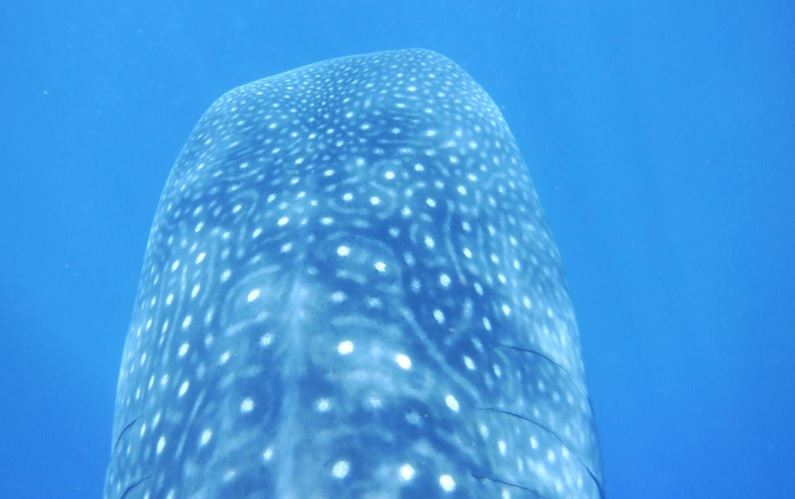 Thankfully, our captain was experienced, and could position the boat in front of the whale. Thus, when jumping in you are looking face-to-face to a wide-open mouth of a whale heading your way.  And if your reactions are good, you can capture a few shots before the whale ambles on its merry way.  All, great fun!   However, with multiple boats and people in the water, the timing was tight and after a couple of dives for each pair of swimmers; we opted to head back to the island and anchored near the shore for snorkeling and lunch.   Fortuitously, not only was our captain competent in finding whale sharks, but he was also a superb chef and made excellent ceviche for lunch while we waded around in the surf. There is something quite island like, to be eating ceviche on a seat cushion floating in the water.  Happy days!
Coming down here at the end of June also provides the opportunity to swim with the turtles during their mating season.  While snorkeling with whale sharks is fun; trying to keep up with the massive creatures of the deep is exhausting.  Not so with the turtle dive.  The turtle dive is a complete E-ticket ride.  The day after our swim with the sharks, we showed up at the dive shop, ready to tackle this more technical dive.  The first dive of the day was a practice dive at the south end of the island, which allowed us to get used to swimming/diving in a stronger current.  This initial dive was good to help understand and compensate for the fact that when fighting the current, you take about ten minutes off your underwater time.  So, you soon realize and learn techniques to help slow down your breathing and glide with the current and not against it.  After this familiarization dive, we then proceed to our second dive site off the pristine waters at the south end of the island.  As Marco, our instructor told us (in his broken English) that when you jump in, rid your buoyancy-controlled device (BCD) of all air, and sink as fast as you can to the bottom where you lay belly first on the sand.  We soon found out why.
When we all jumped in, and as soon as we all hit the floor, you are immediately grabbed by the 12-knot current that hauls you through the ocean bed.  Diving with all your gear and swimming in a three-dimensional environment, you find yourself being driven and tossed by the current, and the forces of nature. I found myself "drifting," and spinning through this subterranean channel at the mercy of the current, bouncing me off coral reefs, rocks, and other divers like a pinball in a pinball machine.  Needless to say, it was rather challenging and violent when you come to a complete stop by the reef.  But one hell of a ride!
After bouncing off rocks and trying to pull myself around corners and not collide with anyone, we soon entered a depression off the channel, where the current slowed and passed around us.
We slowed down, caught our breath, and looked around to behold sea turtles floating around and checking US out.  What fun!  Not only were they all around us, up close and personal, they were staring at us with a quizzical look on their faces.   Since it was the mating season, we happen to stumble on a few pairs of turtles that were…ah hem; you know.  Practicing the birds and the bees, as it were.  Again, while amid making little turtles, these enjoined turtles would catch us looking at them and swim away (still coupled) to a more private local – what peeping Toms we were.  But, as mentioned, fighting the currents takes a lot out of your dive time.  After about 20 minutes of gazing at the swarm of turtles, we had to surface to catch the boat that was circling, trying to maintain position in the turbulent waters above.
As we all boarded the vessel without effect, and proceeded on our merry way, while checking out our awesome photos and discussing what a ride that trip was.
You can bet I will be coming back again soon.
About James Feldkamp
James Feldkamp, USN Ret., is a former FBI Agent, with over 30 years working National Security.  Currently, based in Arlington, Virginia, James is the Lead Consultant on Intelligence & Counterterrorism at Complete Threat Preparedness (CPT), a company comprised of Emergency Management, Public Safety, Self-Defense, Survival, Construction, Intelligence, & Military Special Operations professionals who train and consult individuals and organization, both public and private, on safety, security and protection against natural and man-made hazards.
James Feldkamp began his naval career flying the EA-6B "Prowler" the navy's carrier based electronic attack aircraft off the USS Midway in Desert Storm. He then became a Special Agent for the FBI and founding member of the Joint Counter Terrorism Task Force in Norfolk, Virginia.  In 2004, he resigned to become a candidate for Oregon's 4th Congressional seat.  From 2007 to 2012, Feldkamp was recalled to active duty to establish the international outreach office, for the Office of Global Maritime Situational Awareness; coordinating non-classified information-sharing among Federal agencies, foreign governments, and the international shipping industry to increase maritime safety and security.
James Feldkamp has an MA in International Affairs from Catholic University and is the author/editor of the university textbook Theory and Politics of Terrorism and has been an adjunct professor at several universities in the Washington DC area.  Jim lectures and provides expertise in terrorism, international security, Middle East, world history, law enforcement, and military affairs.  He has edited numerous books on terrorism and jobcounterterrorism from Oxford, Routledge, and Lynne Rienner Publishers.  He also has a "side hustle" as a Copywriter editor for Reedsy, an online publishing firm from London, UK.  In his spare time James Feldkamp volunteers as a scientific research diver and enjoys his work as a sommelier at a Virginia vineyard.  He recently returned from a Clipper yacht race around the world.